Raw Materials for Rotomolding
Rotomolding commonly uses a variety of commodity based thermoplastic materials. The most commonly used for the rotomolding process is Polyethylene (PE). PE is offered in a number of grades and classifications, such as Linear Low Density Polyethylene (LLDPE), Medium Density Polyethylene (MDPE), High Density Polyethylene (HDPE) and Cross Linked Polyethylene (XLPE). While other materials are offered for rotomolding, the selection is not as fast in comparison to other processes, such as injection molding or blow molding. Rotomolding requires that the materials be pulverized to a fine powder, typically around a 35 mesh. While some improvements have been discovered such as the ability to mold micropellets, a smaller version of a pelletized material, rotomolding is still limited in the arena of engineered resins. Some of the other materials available for rotational molding include Polypropylene, Nylons, PVC, Vinyls, Polycarbonate and some less other processed materials. Because of the requirements of powder or micropellets, many of these materials come at a premium due to processing requirements such as cryogenic grinding to get the materials reduced to powder form.
Raw materials for rotomolding vary tremendously across physical properties and their intended use for applications. Additives and colors can be blended into materials to achieve different colors or different characteristics and properties. Learn more about materials for rotomolding below!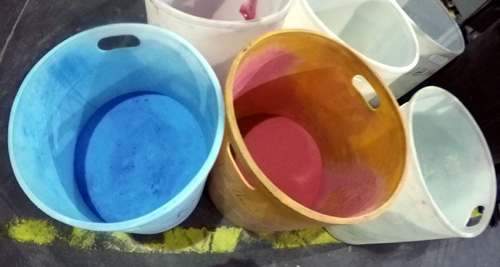 Dry Blended Linear Low Density Polyethylene for Rotomolding
Polyethylene
To understand polyethyle for rotomolding, it is imperative to understand thermoplastic materials. Thermoplastics or thermosoftening plastics are a plastic material, a polymer, that becomes soft, pliable or moldable when the material is heated beyond a specific temperature. The material also hardens and solidifies upon cooling. The polymer chain of thermoplastic materials weaken rapidly when exposed to increased temperatures, turning the material into a thick, viscous liquid. Thermoplastics are more forgiving than thermosetting polymers, as thermoplastics may be reshaped by heating and are used by a number of plastics processes from rotomolding, injection molding and even compression molding. Thermosetting polymers function in an entirely different manner, by forming irreversible chemcia bonds during the curing process. Thermoset materials typically do not melt when heated, they generally decompose and will not reform when cooled.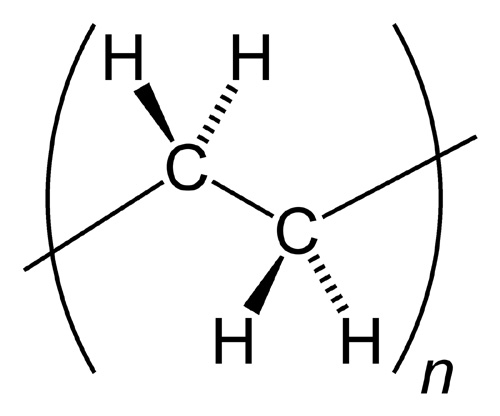 A 2D example of a PE molecule chain
Polyethylene is a thermoplastic material that is a part of the polylefin family. PE is further broken down into groups according to its density as indicated in the following abbreviations:
LLDPE (Linear Low Density Polyethylene)
MDPE (Medium Density Polyethylene)
HDPE (High Density Polyethylene)
LDPE (Low Density Polyethylene)
XLPE (Cross Link Polyethylene)
Learn more about each of these PE grades and other materials for rotomolding below!
Linear Low Density Polyethylene (LLDPE)
Linear Low Density Polyethylene shows good durability and medium stiffness physical properties. While the LLDPE materials are extremely durable, they are more forgiving and easier to mold via the rotomolding process. When certified prime virgin LLDPE materials are used, they provide excellent resistance to chemicals and environmental stress cracking. LLDPE must be pulverized to a powder or micropellet for it to be efficiently processed in rotomolding. A quality minded rotomolding company will only process certified prime virgin LLDPE materials, which are commoly enhanced with UV stabilizers and AO packages. LLDPE can be dryblended to virtually any color thru blending the material with the proper pigments for the rotomolding process. Other additives such as anti-microbials, anti-fungals and various other additives can be blended with PE materials to enhance the physicals or give the materials certain features or benefits.
Common applications of Liner Low Density Polyethylene include: Rotomolded Furniture, Outdoor Piping, Spray Tanks, Industrial Tanks, Shipping Containers, Plastic Pallets, Boat Docks, Playground equipment, Housings/Covers, drainage products and so much more!
High Density Polyethylene (HDPE)
High Density Polyethylenes exhibit the stiffest material properties of all the different variants of polyethylenes. Like all various other polyethylene materials, HDPE has excellent resistance to a broad variety of chemicals and solvents, when certified prime virgin materials are utilized for rotomolding. It features fantastic molding properties for the rotational molding process. Like LLDPE, HDPE has to be pulverized to a powder or extruded into micropellets for the material to be rotomolded. Quality minded molders generally process HDPE with UV stabilizers and AO additives. Certified prime virgin HDPE materials are commonly used in FDA/USDA food grade applications. Many tanks and various other parts are molded from HDPE because of its physical properities.
Applications for HDPE include Agricultural tanks, boat docks, underground products, wall barriers, cargo containers, water tanks and much more.
Low Density Polyethylene (LDPE)
Low density polyethylene was one of the first grades of polyethylene developed. Like all PE grades, LDPE is commonly recycled. LDPE consumption world-wide exceeds a volume of $23 Billion (USD). LDPE has a lower density and tensile strength than HDPE. LDPE materials provide a density typically in the range of .910-.940 g/cm³
Applications for LDPE include a plethora of products ranging from Toys, Furniture, Housings, Covers, Pet products and more!
Cross Linked Polyethylene (XLPE)
Cross-Linked Polyethylene contains a special cross-linking agent which reacts with the polymer material throughout the rotomolding process, creating a cross-linked molecule, very similar to a thermoset material. This chemical reaction during the rotomolding process enhances the strength, durability, environmental stress-crack resistance and tear resistance. However, because of this chemical reaction, XLPE products are not capable of being recycled.
Applications for XLPE materials include Fuel Cells, Chemical Tanks, Piping, Waste Management Products, duct work, and more.
EVA Co-polymer (EVA)
Ethylene Vinyl Acetate is the co-polymer of ethylene and vinyl acetate. This polymer is comprised of a range of 10% to 40% vinyl acetate with the remaining composition of the polymer being ethylene. This material is soft and flexible, thus acting similar to elastomeric materials, however it is processed in a similar fashion than PE based materials. EVA's typically exhibit good stress crack resistance, barrier properities and the ability to withstand low temperatures. EVA's also feature hot melt adhesive water proof properties and resistance to UV. EVA is often competitive with rubber and vinyl products.
Polyvinylchloride (PVC)
PVC compounds for rotomolding can be processed in both liquid and powder forms. The plastisols in liquid form are fluid suspensions of very finely reduced partical size resins in plasticizing liquids. Liquid PVC materials require proper equipment and dispensing systems to properly load the materials into the molds and process. The PVC compounds can be engineered to meet certain criteria for customers. This engineering allows the parts to range from very flexible products to semi-rigid durometer hardness ranges of 60 Shore A to 65 Shore D.
PVC rotomolding applications include teething rings, planters, dolls, children's toys, Pet toys, novelty items and more!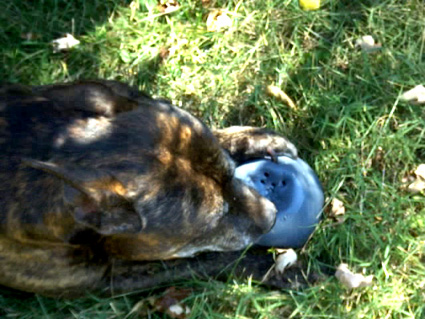 A Pit Bull Chewing on a Rotomolded PVC Dog Toy
Nylon
Nylon is a growing materials segment for the rotomolding industry. Nylon is offered in (2) grades, a Nylon 6 and Nylon 12. Nylon materials provide outstanding tensile strength, excellent impact strength and good rigidity. Nylon offers very high heat resistance in comparison to other rotomolding materials, such as polyethylene, as Nylon's physical properties are maintained at even elevated temperatures. It provides excellent resistance to many chemicals. Because of the culmination of these characteristics it is often used in fuel cell applications and numerous other applications where exposure to high temperatures and chemicals are necessary. From a pricing standpoint, Nylon is significantly higher in raw material costs in comparison to PE grades.
Nylon 12 offers a lower melting point than Nylon 6. While Nylon 12 exhibits mechanical properties that are less than Nylon 6, Nylon 12 is easier to process.
Rotomolding applications for Nylon materials include Fuel Cells, Heating and Air ducts, Chemical storage vessels and more!
Polycarbonate (PC)
Polycarbonate displays extremely strong physical properties including stiffness, tensile strength and creep resistance. Polycarbonate displays the highest impact strength of all rigid plastic materials. Because of its superior physical properties, Polycarbonate has a very high resistance to heat. When processed correctly, polycarbonate can be molded clear. Polycarbonate from a pricing standpoint is more expensive than even Nylon, Polypropylene and Polyethylene.
Rotomolding applications for PC include light fixtures, furniture, snowmobile components, air craft containers, shpping containers and more!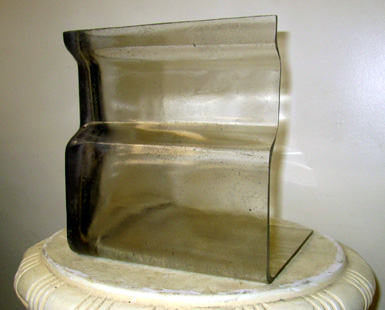 Section of a Rotomolded Polycarbonate ULD Container
Polypropylene (PP)
Polypropylene exhibits physical properties that make it more rigid than polyethylene. Polypropylene has a higher heat distortion temperature, excellent chemical properties and environmental stress crack resistance. Because of these properties polypropylene is used in autoclave applications. In comparison to polyethylene, polypropylene is not as forgiving, as polypropylene is extremely brittle and has very low impact properties. As a price comparison it is moderately more expensive than polyethylene, partially because of its cryogenic grinding requirements. Polypropylene is extremely resistant to abrasion, which makes it an excellent candidate for food industry products.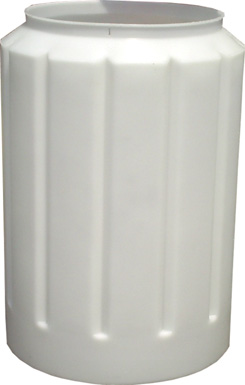 Rotomolded Polypropylene Food Processing Product
Rotomolding materials summary
While various materials are available for rotational molding, the selection of materials is limited in comparison to other plastics processes such as injection molding or blow molding. Because of rotomoldings requirements of powder or micropellets, the selection of engineered materials is extremely limited. The materials utilized in a rotational molding project will be contingent on the design and intended function of the rotomolded products. Learn more about the rotomolding process to gain a clear understanding as to how these materials are processed in rotational molding!
Looking for further information on rotomolding? Check out the following pages below: